How much do dating sites earn
First of all, we'll need to look into how exactly do dating sites make money? In general, the business model for dating sites falls into three categories:
Membership Subscriptions
The subscription model is the oldest model in the dating sphere, requiring users to pay a fee to use the app for a set period of time (usually a week or a month). The payments are typically recurring. The most prominent example of such is Match.com, which charges users $40/month to access the site. These sites are focused on finding people a serious relationship and tend to lean towards an older population who are willing and able to pay. Zoosk, eHarmony, and Our Time are also paid dating services. Typically, the paid subscriptions are cheaper by the month if the user commits to a longer period of time. For example, eHarmony charges the following: $42.95 for six months, $25.95 for 12 months, and $10.95 for 24 months.
Freemium
The freemium model is based on the concept where users can sign up and use the basic functionalities of the app for free, while the app generates revenue either via advertising or unlocking enhanced features for a fee. Without a barrier to entry, freemium dating sites often wait to build scale, loyalty, and active users until they introduce paid features. They typically use a combination of both options.
An example of the freemium model is the Badoo website where one can activate Super Powers or increase one's popularity by rising up to the first place in search results.
Paid services may include access to the multimedia content, mailbox, messengers or video chats, sending virtual gifts, and many other features.
Advertising
Advertising is a way for the site to generate shared revenue with advertisers from clicks, views or transactions. Certain sites and the "swipe left or right" apps seem particularly suited for native advertising, ads that match the look and feel of the media format that they appear in.
In April 2015, Tinder launched its first ad campaign for Budweiser, where users viewed a Budweiser video within a few swipes. Users could "swipe left" to pass and "swipe right" to like the advertisements, data which was tracked by Tinder for Budweiser. It's not hard to see why Tinder would pursue this strategy: 50 million users who are very engaged. However, a brand's approach to this audience must be strategic. For example, when movie Ex Machina was in its promotion phase, the film's main character "Ava" was introduced to Tinder users as a romantic prospect (in the movie, she's a robot). The campaign went viral.
However, Facebook has gone on record saying that its dating service will not include ads.
In-app purchases: users upgrade for enhanced features
Though basic membership is free, users can pay for extra, enhanced features. As of September 2017, Tinder was the highest-grossing app on the app store among US consumers. In the same month, Tinder rolled out their Tinder Gold feature, which, for $4.99 a month, allows users to view others who have "liked" them already before they have to like them back. In its most basic functionality, Tinder only reveals users' identities once they had both independently matched with each other. The Tinder Gold feature has been added on top of two existing features: the "Tinder Plus" upgrade that ranges from $9.99 to $19.99/month, which allows users to like an unlimited number of people within 12 hours (basic Tinder is capped at 100 likes). Another perk of Tinder Plus its "Passport," which allows users to adjust their geographical location before even arriving in a new city. It took Tinder about three years since its inception to start monetizing, as it was working to build its user base and loyalty before turning on the monetization engine. About 5% of Tinder users pay for these services.
In second place is female-friendly Bumble, which also only started to monetize in August of 2016. Over 10% of Bumble users put forward $9.99/month for perks such as extra time to decide whether a prospect deserves a message from them. The perks include Rematch, Beeline, and Busybee. BeeLine will automatically match users with people who have already liked their profiles; Rematch keeps expired matches in a user's queue (Bumble matches expire in 24 hours if no conversation is started), so users can try once more to get their attention; BusyBee gives daters unlimited extensions on the 24-hour time limit for contacting a new match. Bumble uses this in combination with local, targeted advertising.
What is the best way to monetize?
There is no distinct answer. Picking the right monetization strategy for your dating site is almost like finding the right romantic partner for yourself. You need to know your website and customers, be aware of what the competition is up to, and do a little experimenting to find the perfect match. Your monetization strategy is fully-customizable, and you can even change it over time to adjust to evolving technology and market trends.
How much top sites make
Tech buy-back site Decluttr has crunched the numbers, looking at just how much money apps like Tinder, Bumble and Match are making every minute.
Unsurprisingly, Tinder tops the charts, making $1,469 per minute, or $88,143 per hour. Through the Tinder Plus and Tinder Gold paid services.
Bumble takes the number two spot, earning $172 per minute. Paid services: Beeline, Rematch and Busybee.
Online dating veterans Match and Plenty of Fish come in at third and fourth place, earning $134 and $78 per minute, respectively. 
Infamous infidelity site Ashley Madison has struggled to recover from its 2015 data breach controversy, now making just $28 per minute. 
Bringing up the rear is Huggle, a new service which matches users based on mutual interests and common locations. A relative newcomer to the online dating scene, Huggle is currently making just $0.10 per minute.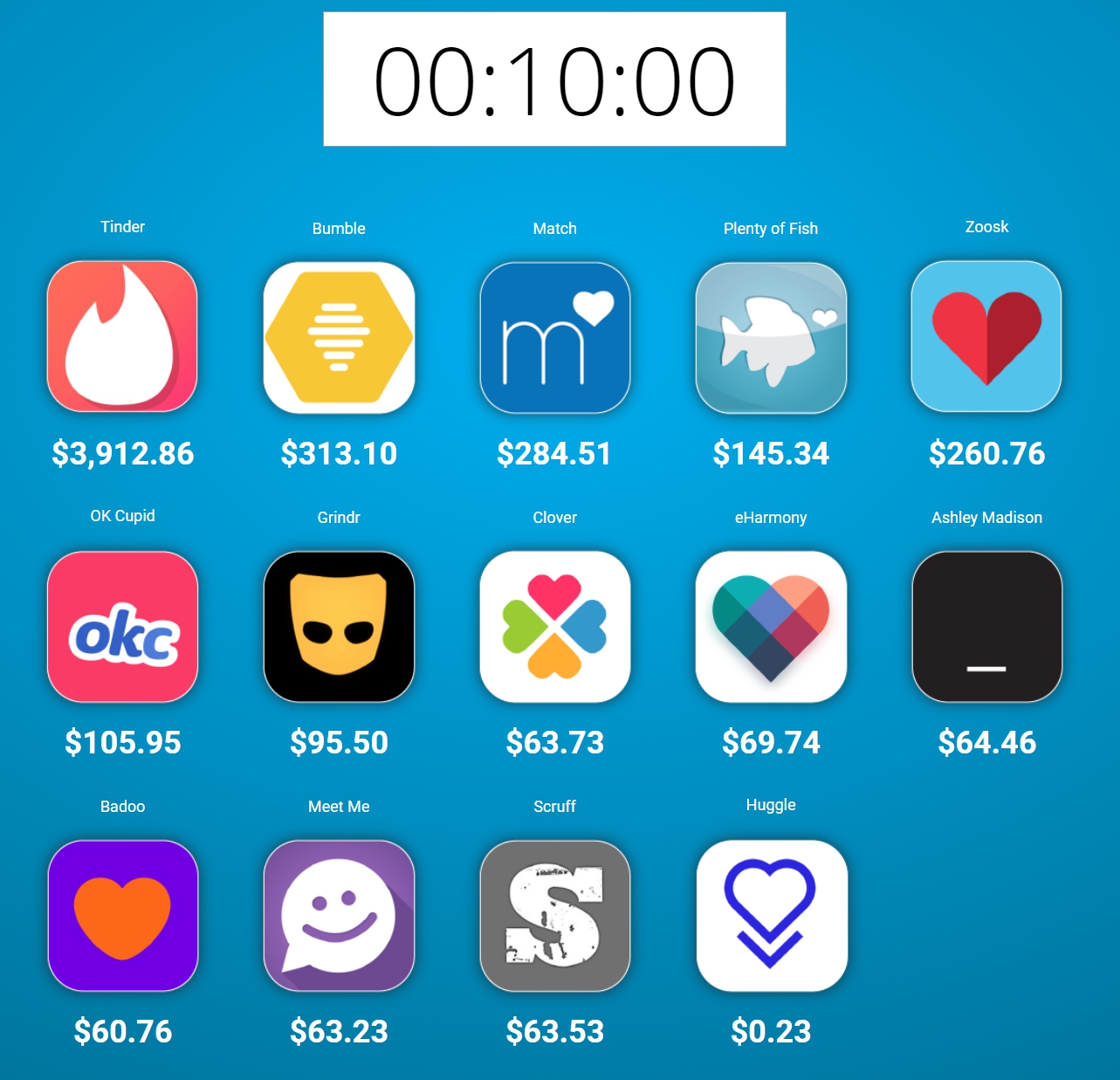 https://www.decluttr.com/money-dating-apps-make-per-minute/ 
How much they really make
While usually no sites and apps publish their real profit results, there is a trick to get an approximate numbers.
Most optimal scheme: 50% of visitors become members and 25% of those paying members.
While for new or weak sites: 10% visitor to member conversion and 5% member to paying member conversion
5000 visitors => 2500 members => 625 paying members (X $15/month) => $9375/month income initially
And now let's look at an real example —  VictoriyaClub.com, an international dating website that has been around since 2011. Its main focus is to let men from the West meet girls from the East.
In order to check the statistics, we'll use similarweb.com service.
After logging in, we can see that in March, the site had 223,605 visits

Then we scroll to the bottom and see the most popular outgoing links: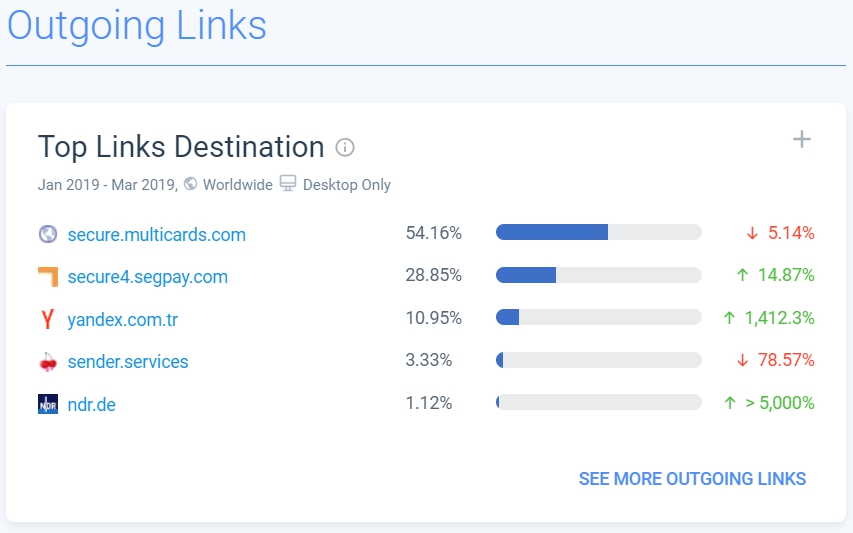 As you can see, the 2 top links are payment systems links.
Let's assume that 50% of users visit payment page.
And only 25% of them really pay.
So the math will be: 223,605 visits / 2 (50% conversion) = 111802 users
111802 / 2 = 55901 users visit payment page
55901 / 4 = 13975 users pay
Now let's look at the paid services: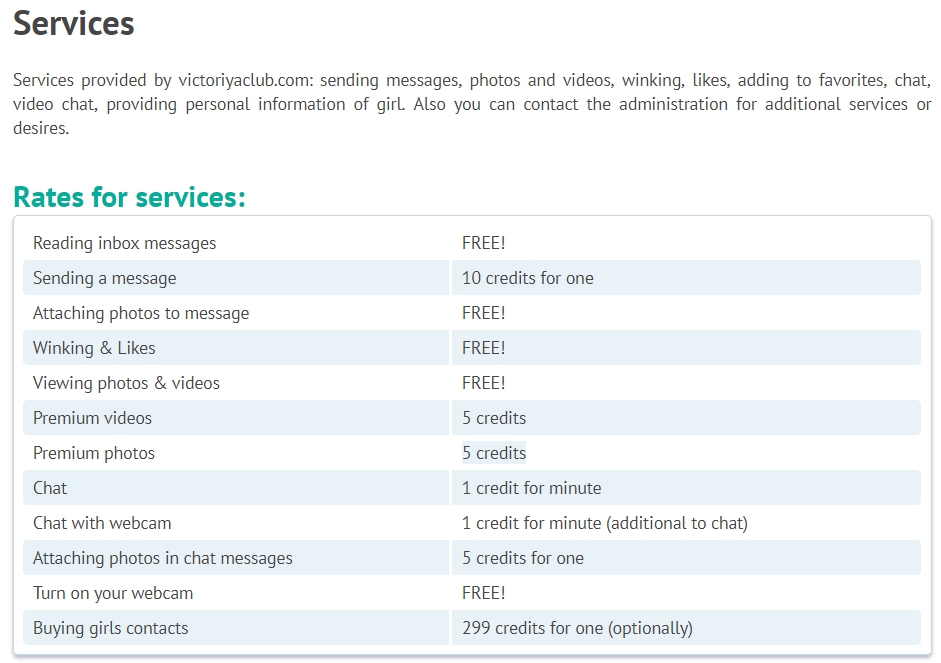 As you can see, all of them are linked to virtual credits.
And the prices for virtual credits are: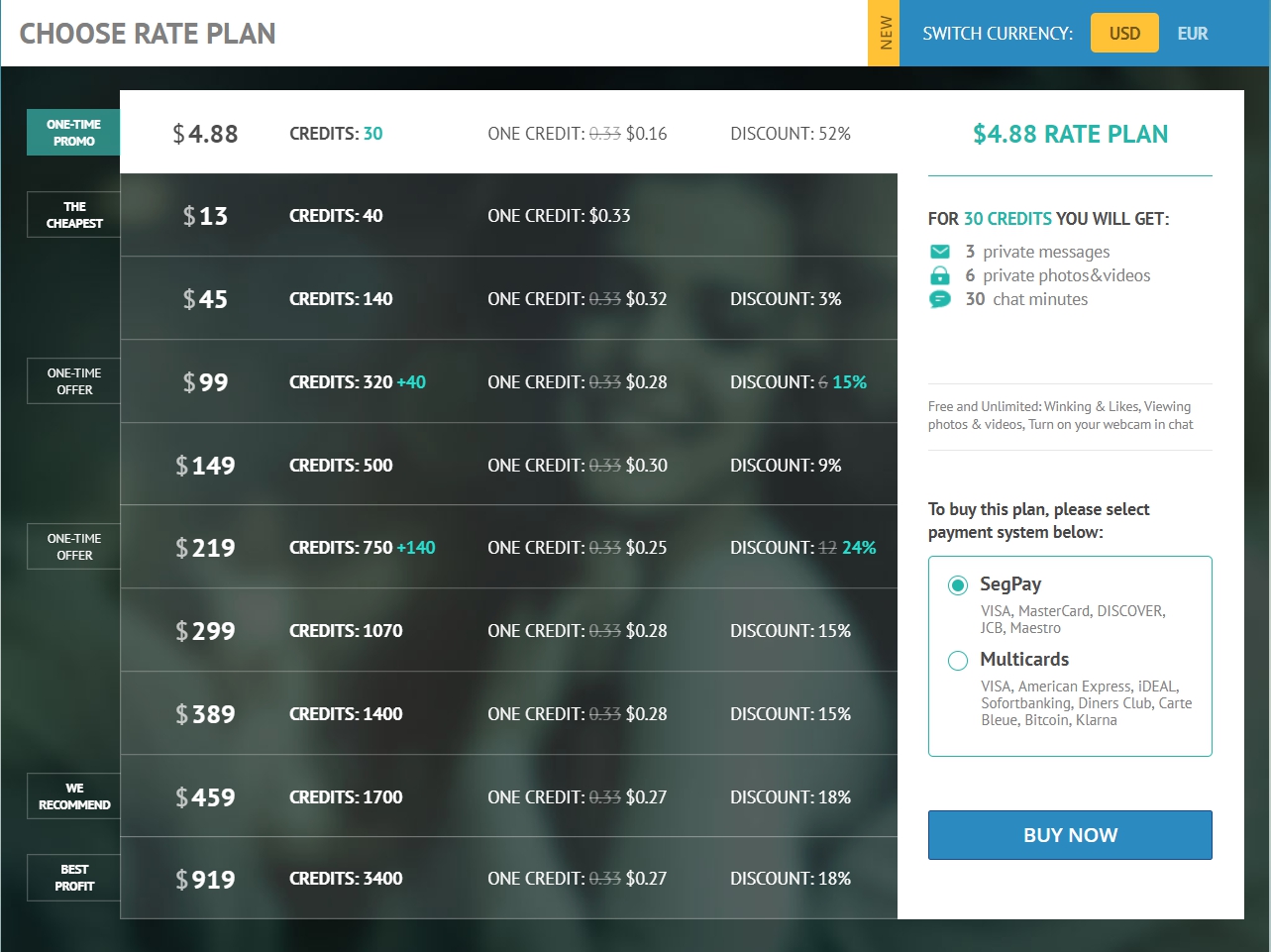 We can freely assume that 80% of the site payments are the cheapest packages: $4.88 for the first time and $13 for further purchases.
While 20% are high-end of $200-300 per purchase.
So using this info, we can calculate an average check per user:
((4.88+13)/2)*0.8+((219+299)/2)*0.2 = 59 dollars per user.
Now we can use 13975 (users payed) * 59 (average check in $) = 824525 dollars were made in March
And now let's look into ROI (Return On (marketing) Investment)
Return on investment represents the financial benefit received from an investment. Basically, it's a measure of what you get back compared to what you put in. In business, it's most often used to determine the effectiveness of marking.
The goal is to have a high ROI. It is usually represented as a ratio and obtained by dividing the gain earned from the investment by the investment amount. For example, if you spend $1,000 per month for Pay Per Click (PPC) advertising and generate $2,000 in revenues directly from your PPC campaign, you divide $2,000 by $1,000 to get $2. The ROI would then be $2 or 2 to 1. In other words, for every $1 you spend on PPC ads, you earn $2. 
We at Dating Pro created a ROI calculator for dating sites and apps to help you to calculate your profit.
https://www.datingpro.com/roi-calculator/
If you have any questions or feedback, you can message in comments below or reach me at facebook: Alexpilotgroup and email: [email protected]
Google Slides: https://docs.google.com/presentation/d/1E6hSO_XnnQMzI5MmM7W7SJFS8h1-vTpCFHVRwD-1wzQ/edit?usp=sharing